Happy Wednesday All!  Well by now you all know what today is thanks to Jenn at Peas and Crayons.  It's: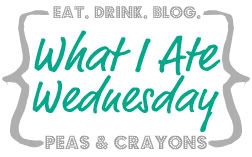 Here's a recap of everything that has gone into my belly so far today…
Breakfast
Homemade granola, strawberries, blueberries, mango and greek yogurt. 
AJ had suggested that I try a granola recipe that she had found on All Recipes.com.  It's called Megan's Granola.  I did a some tweaking (added chia seeds, reduced the sugar, used olive oil) and it came out soooooooo good.  I'll be sure to post the recipe with all my adjustments soon. 
Lunch
Leftovers… 
Leftovers from last night's dinner (buttercup squash, chicken strips) and spinach salad with strawberries, grape tomatoes and cranberry goat cheese. 
Dinner
Tonight's dinner was all made and plated by Steve!
What a special treat.  
He even came up with his own seasoning for the roasted squash.  It was yummy! Way better then the boring roasted squash I had made for last nights dinner.
BBQ jalapeno smokie, spinach salad with cucumbers, grape tomatoes and cranberry goat cheese and a side of roasted soya buttercup squash.  
Huh, smokie with no bun you ask? Don't worry we're not going low carb or anything crazy like that. We just didn't have any hotdog buns in the house. Boo.
Dessert
I haven't made my dessert yet, but I know what I want to have while we watch a movie tonight.  It's going to be frozen greek yogurt, with a frozen banana, topped with granola, chocolate covered gummy bears, reese's peanut butter candies, blueberries, strawberries, a little drizzled of almond milk and probably a scoop of peanut butter.  I can't wait!